Pyrohy Sale
In our St. Stephen's Ukrainian Catholic Church in Toms River, NJ, we are truly blessed by God to have many people who volunteer their time and their talent in small and large ways for the benefit of this church and for the advancement of the gospel of Christ in this place.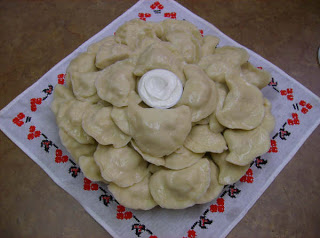 In our parish, once a month we are making and selling varenyky/pyrohy for just $8 for one dozen. Some say varenyky, pierogi and others say pyrohy. These are dough pockets filled with potato and cheddar cheese. However you pronounce, the warm potato and cheese pockets are made monthly by the women of St. Stephen's Church; they may be the answer to your culinary prayers. About 50 women from the congregation of St. Stephen Ukrainian Catholic Church work together to peel potatoes, grate cheese, knead dough and pinch pockets to make hundreds of pyrohy a month. That's thousands of pyrohy throughout the year, and the volunteers are at work two days each month.
The third Wednesday of each month volunteers prepare the potato filling, the cheese combination of sharp cheddar, American and cream cheese, and the dough. The following day — which is also when customers file in to pick up their orders — the volunteers are still hard at work, pinching the potato pockets and cooking them. The process involves a common recipe from most Eastern European countries, but the church production nets orders totaling anywhere from 800 to 1,000 dozen during the holiday season. It's a unique fundraiser for the church, and it keeps patrons coming, hungry for more. People that buy them say they are the best."
Volunteers said that if your timing is right on pick-up day, you can arrive to find your pyrohy hot and ready to eat. Most customers bring some home to share with family.
Our pyrohy are delicious because when we are making them, we believe that we are not just people who cook to earn a paycheck for the church.  We are so much more.  We are the people who bring comfort and joy every day and send it all over the country.
Our volunteers have been making the pyrohy since the opening of the Church in 1993 and will continue to do so as long as there are projects that need to be completed.
Ordering: – Next pyrohy sale is Saturday, February 17th, 2018

Placing an order for the pyrohy, which are $8.00 per dozen, is a phone call to the church Pyrohy Hotline at (732) 505-6293 or at (732) 505-6053 and leaving a message. Your order will be ready for you on the designated pick up day between 12 and 4PM.
Please, buy the varenyky/pyrohy from us and tell your neighbors and friends about our project.