News & Events
FIRST HOLY COMMUNION
Our Ukrainian Church here in Toms River, NJ had a joyous occasion on Sunday, June 4, 2017.  Four children of the parish family (pictured) Zachary Bishop-Wistreich, Stephen Penswater, Yana Kelyman, and Adrian Tynio received two Holy Sacraments, First Solemn Confession and First Holy Communion. We would like to congratulate them and ask for God's Blessings upon them always.
Mnohaya Lita!
SVIACHENE CELEBRATION

Easter is a feast of Joy and Gladness, that continues to unite the Ukrainian family and  entire Ukrainian parish community. After the Divine Liturgy, on Sunday, April 23, 2017, in our Community Center, over one-hundred parishioners and guests attended the traditional parish Easter Dinner celebration, Sviachene, or blessed meal.  Reverend Pastor Volodymyr Popyk welcomed the parishioners and guests, then blessed the Paschal  food and lead in the singing of  "Khrystos Voskres".
Following Ukrainian tradition, the assembly first shared in the traditional blessed Easter basket foods, including eggs, paska, butter, cheese, horseradish, kielbasa, and ham.
This presentation was followed by an entrée of pork loin in gravy, garlic mashed potatoes, green beans, garden salad, and delicious strawberry shortcake served as dessert.
To provide a festive, yet appropriate background, soft, traditional Ukrainian music complemented the event. The tables were enhanced with beautiful Easter center-piece floral arrangements and decorative Ukrainian-spring themed place settings. The centerpieces were later raffled off to a lucky guest at each table!
Many thanks to all the volunteers, who helped in preparing the food and setting up the Church hall for this wonderful parish event.
SPECIAL FAREWELL
The Sviachene celebration at St. Stephen's also provided an appropriate opportunity to conduct a Farewell Ceremony for Jessie Kaciuba, a long-time member of our parish.
Back in the 1980's, with a few dozen of other Ukrainians, Jessie and husband Paul began fund raising activities for a newly formed St. Stephen parish. They started pyrohy making, babkas  and other baked goods, along with other delicious homemade foods for sale.  The enthusiasm and fellowship displayed by Jessie was contagious and people loved being around her and Paul.  Jessie's tireless work and great sense of humor was inspiring.  She would always ask "What can I do to help?"  She would just roll up her sleeves and get to work.  She was involved in the ladies Rosary Altar Society which raised many funds for the building of the church hall and future church.
Jessie started the annual Flea Market held every March.  Due to her efforts and hard work, the flea market became an annual parish affair and raised many funds for the church.
Jessie was an inspiration to many and set an example for others to follow. Her involvement in the parish of St. Stephen helped tremendously in the building of the original Church Parish Center, which was dedicated on May 15, 1994.
In recognition of her many years of voluntary participation in various Saint Stephen parish activities, the Saint Stephen Holy Rosary Society presented Jessie with a beautiful Icon of the Blessed Virgin Mary, and other gifts and keepsakes in appreciation and gratitude for her parish loyalty and devoted service.
We all wish her well on her relocation to South Dakota to be close to her family.  She has left a permanent imprint on the parishioners and parish of St. Stephen Ukrainian Catholic Church.
Rev. Popyk blessed Jessie and wished her many future blessings in her new adventures and home!
Photos may be viewed here.
EASTER PASCHAL FOOD BLESSING AND EGG HUNT
Parishioners and guests of our parish gathered in the church community center on Holy Saturday, April 15th, for the traditional blessing of Easter Baskets.
With a hall filled to capacity, the Rev. Volodymyr Popyk, pastor, graciously welcomed the congregation and then recited the ritual prayers. The ceremony was done in both Ukrainian and English languages.
Father Popyk and the altar boys then processioned to all the tables and blessed the gathered faithful with their beautifully prepared Easter baskets, laden with the traditional Easter foods!   Father wished all a blessed Easter and reiterated that this is the season of the joy exemplifying Christ's love for us.
All were invited back to the church for the Service at the Grave of Jesus and then there was a 6:00pm Resurrection Divine Liturgy (in English).
On Easter Sunday there were a Procession and Resurrection Matins before the Resurrection Divine Liturgy (in Ukrainian) plus the Blessing of the Artos and Paschal foods and Myrovania.
Easter Egg Hunt

Earlier that day, all the children of the parish and guests were invited to an Easter egg hunt on the spacious church grounds. The weather was perfect and the laughter and joy of all the children was echoed throughout the whole area. Pastor, Father Volodymyr Popyk and parish parents organized the event. They made sure all the children had an abundance of Easter eggs in their baskets for their "hunt". After the fun filled affair, all the families and friends congregated back in the church hall for the Easter Basket blessings.
Photos may be viewed here.
HONORING TARAS SHEVCHENKO
On Sunday, February 26th, 2017, our parish sponsored a concert honoring Ukraine's greatest poet and national hero, Taras Shevchenko. Rev. Volodymyr Popyk welcomed an audience of parishioners and guests to the anniversary celebration of Taras Shevchenko's birth, and thanked everyone for attending this special event, especially in light of the challenging situation taking place in Ukraine.
The concert started with a presentation by Rev. Popyk on the life and meaning of Taras Shevchenko to all Ukrainians.
The children of St. Stephen's Saturday Ukrainian School, dressed in Ukrainian attire and under the guidance of teacher, Maria Ivanus  did an inspiring presentation of the personal side of Taras Shevchenko. With the narrations by teacher and teacher's aide, Liliya Zaytseva, the children recited poems and songs of Shevchenko.
Reverend Popyk then welcomed to the center stage, the Church Choir Ensemble directed by Yurij Shevchuk.   With a standing audience, all joined in singing the Ukrainian National Anthem, Ще не Вмерла Україна ("Ukraine Has Not Perished." ) and Заповіт ("Testament"), a poem that enjoys the status second only to Ukraine's National Anthem, and was sung when the Anthem was banned from the public use. Also,  the audience was treated to two more of Taras Shevchenko's songs:  Думи Мої  ("My Thoughts"),  Реве та Стогне ("The Wide Dnipro Roars."), and ending with Ой у Лyзі Червона Калина ("In the Meadow the  Guelder-rose Droops")
To the delight of everyone, The Children's Dance Ensemble, under the direction of Nadiya Lemega, performed several dances! The children were fabulous!
Three parishioners Anna Turdio, Olha Piatka and Maria Sokolovska shared beautiful, moving thoughts and poems with the audience.
In conclusion, Yurij Shevchuk, accompanied by his guitar, sang a lovely rendition of Така її  Доля ("Such is Her Fate").
Rev. Popyk closed the program by thanking all for their participation and  appealed  to all Ukrainians to be proud of their heritage, to share it with the next generation and to pray for our beloved Ukraine.  All sang "Mnohaya Lita".
Photos of the event can be viewed here.
TRADITIONAL PROSFORA CELEBRATION
On Sunday, January 29, 2017, a glorious Prosfora Dinner Celebration was held in our Parish Community Center. Following the Second Liturgy in Ukrainian, over one-hundred and twenty parishioners and guests gathered in the beautifully decorated Church Hall. Spokesperson Gerry Tchir presented, in the English language, the rich traditions that place during Prosfora. There is a special religious emphasis on this Ukrainian Christmas Eve Supper, or Sviata Vecheria. This event brought together the Saint Stephen Ukrainian Catholic Church parish family and guests  to partake in rich traditions and customs, special foods, carols, and memories that reach back to antiquity.
To start the Prosfora celebration, pastor Rev. Volodymyr Popyk and 2 Church elders accompanied by twelve ladies dressed in embroidered Ukrainian attire entered the Church hall singing Ukrainian Christmas carols. Orest Popovich, a church elder, carried the "ZIRKA, Star of Bethlehem, and John Bortnyk, the second church elder, carried the "DIDUKH," a sheaf of wheat. The twelve ladies in procession carried the "KOLACHI," specially-made Christmas breads, that were later placed on each guest table, with a lighted candle, that served as the centerpieces. The Procession entered the Church hall singing "Boh Predvichnyj " and "Dobryj Vechir Tobi, Pane Hospodaryu", Ukrainian Christmas carols.
Father Volodymyr led the audience in prayer, and then the Blessed Prosfora bread, dipped in honey, was passed to each member of the table with best wishes for good health and prosperity in the coming year. The twelve course Prosfora Dinner started with kutya, boiled wheat mixed with poppy seeds and honey, and is considered the most important food of the entire Christmas Eve dinner, and is also called "God's Food".  The guests were then served the traditional dishes such as Borshch a beet soup with vushka, mushroom filled little dumplings, freshwater fish, varenky, boiled dumplings filled with potatoes, holubtsi, stuffed cabbage, mushroom gravy and bean salad. The Prosfora dinner ended with "uzvar" compote, a sweet combination of dried fruits mixed with honey, spices, and boiled water,  pampushky, little deep-fried pastries containing poppy seed and dried fruit, makyvniky, poppy seed rolls and a variety of Ukrainian cookies and other sweets, followed by coffee, tea, etc.
Everyone enjoyed a wonderful, bountiful meal! No one from this Prosfora Dinner went home hungry.
A very special treat at this year's Saint Stephen Prosfora Celebration was the appearance of the wonderful Vertep Carolers. They put on a marvelous traditional Ukrainian Christmas show including costumes, caroling, and lots of audience entertainment.
The Prosfora celebration ended with the entire assembly joining together to sing traditional Ukrainian and English Christmas carols. What a joyful parish event!
Let us remember that whether Christmas is celebrated on December 25th or on January 7th, the message is the same: "Peace On Earth, Good Will Toward Men!"
We are blessed with this opportunity of sharing our beautiful Ukrainian Christmas traditions to express family and parish closeness and unity within our personal lives and that within our church communities!
We reach out to all our brothers and sisters throughout the world, especially those in Ukraine, to wish everyone Peace, love, good health and contentment!
Photos of the event can be viewed here.
Saint Nicholas Christmas Celebration
On Sunday, December 18, 2016, over 200 parishioners, guests, and children gathered in our newly renovated Community Center to celebrate the joyful arrival of Saint Nicholas.  A large group of elementary school aged children, beautifully dressed as "Angels", Stars", etc.  and in traditional Ukrainian embroidered attire, presented a festive and enjoyable musical program in the Ukrainian language, under the direction of the Ukrainian School teacher, Mariya Ivanus. After the children sang "O khto khto Mykolaya lyubyt…" St. Nicholas arrived to the delight of everyone!  He greeted the children and the guests, then with the help of his angels, he presented special cookie treats and gifts to all the children who were present in the audience!
The Community Center was beautifully decorated to create a festive Ukrainian Christmas environment and both Ukrainian and English Christmas carol background music provided the perfect atmosphere for this marvelous event.
Following the delightful children's Saint Nicholas presentation, the audience was treated to a sumptuous, wide-variety of delicious Ukrainian home-made food, including appetizers, salads, meats, fish, and an elaborate assortment of desserts.
A special table was devoted just for the children with special child-friendly foods like pizza, chicken fingers, mac and cheese, cupcakes, etc….The children were delighted with their treats and socialized with one another!
The Saint Nicholas Celebration was an outstanding holiday success, and everyone is invited to attend our January 29th, 2017, "Prosfora" event at 12:30 pm to be held in the Saint Stephen Parish Community Center.
See photos here.
On behalf of the entire Saint Stephen Ukrainian Catholic parish community, we wish all a Blessed and Joyful Christmas, and a Healthy and Prosperous New Year.
St. Stephen UCC  "Prayer Shawl" Project
The Prayer Shawl Ministry of our parish was started in September, 2016. It is a year round project, with a group of volunteers who crochet or knit shawls and lap throws for the elderly in nursing homes or home bound situations.   While most of the work is done at home, the group meets every Wednesday from 1-3 PM in the conference room at the church. Here they share ideas and needlework techniques, while enjoying refreshments and socializing.   Every meeting starts and ends with a prayer.  Volunteers are also encouraged to pray over their shawls/lap throws while they work at home. Even though it is not known who will receive these gifts – God knows already!
Before Christmas, the ladies were excited to pack 20 white gift bags, each with a hand made shawl and a special prayer note inserted!  Pastor Rev. Father Popyk blessed these gifts and had them delivered to several nursing homes and home bound people in the community.
See photos here.
Parish Thanksgiving Holiday Feast
On Sunday, November 20, 2016, following the 10:30 AM Ukrainian Liturgy, almost 100 parishioners and guests were treated to a warm and elaborate Thanksgiving Parish Feast in the Church Community Center. Men and women of the Saint Stephen parish set-up and decorated the newly-renovated parish community center in a wonderful Ukrainian Fall theme, complete with beautiful, hand-made centerpieces adorning a white, table-cloth environment, with festive music complementing the event.
Saint Stephen parishioners and guests were treated to a wide variety and assortment of delicious home-made appetizers and desserts. A bountiful, unlimited, traditional Thanksgiving dinner, served family-style, was served to the festive dining delight of the audience.
The Thanksgiving Feast began with a prayer and an audience greeting by Pastor Rev. Popyk, followed by the serving of the parish meal. Parish fundraising activities included a 50/50 raffle and a raffle for an impressive variety of a "basket of cheer." A special Thanksgiving poem written by Saint Stephen parish poetess, Lydia Bargiuk, was eloquently narrated and presented by her niece, Diana, as special Thanksgiving entertainment to the gathering.
The Saint Stephen Parish Thanksgiving Holiday Feast was an outstanding success, and all are invited to attend our January 29th, 2017, "Prosfora" in the Saint Stephen Community Center. See photos here.
On behalf of our entire Saint Stephen Ukrainian Catholic Parish community, we wish everyone a Blessed and Joyful Christmas, and a Healthy and Prosperous New Year…God Bless!

Thanksgiving Day
 A national day of giving thanks…
A cornucopia of savory delights…
Family and friends gathered around
A table laden with tasty morsels…
Are our thanks limited to just one day
When appetizing sights and smells hold sway?
What about the rest of the year?
Do we bury our heads in the sand?
Do we neglect to give a stranger a helping hand?
Are our thanks just empty words, not encased in deeds?
Let us resolve on this great day
To thank God in a true Christian way…
By supporting our church—our community…
Let us be a loving—caring you—starting today
By doing things God's way.
by  Lydia Bargiuk
Thanksgiving Day 2016
New Pyrohy Campaign Launched
 An enthusiastic group of over 25 parishioner volunteers met on Friday, 10/20/16, and Saturday, 10/21/16, to revive the pyrohy-making parish tradition which originally started with the opening of the Church in 1993. This newly formed dedicated group of men and women, led by Rev. Volodymyr Popyk and his wife, Natalia, participated in this productive and socially-enjoyable endeavor. They worked together to peel potatoes, grate cheese, knead dough and pinch pockets to make over four hundred dozens of pyrohy. The pyrohy-making event was a fun, social opportunity, with singing, chatting, and warm sharing tips on how best to make pyrohy, and fond memories of Ukrainian life together. The event turned out to be a great fund-raising event with many parishioners and neighborhood customers pre-ordering their home-made pyrohy! These sales greatly benefit Saint Stephen Church. Rev. Popyk was very pleased and encouraged with the number and enthusiasm of the parish volunteers, and is scheduling continuation of this pyrohy-making project on a regular monthly basis. Plans are to make hundreds of dozens more!! Anyone interested in buying these home-made Ukrainian pyrohy should contact Pyrohy Hotline at (732) 505-6293 or at (732) 505-6053 and leaving a message. Alternatively an email may be sent to pyrohy@ststephenchurch.us.
See photos in the photos page
Parish Celebrates Pastor Rev. Popyk's Birthday
 On Sunday, October 16, 2016, an exuberant group of over 120 people attended a birthday celebration for new pastor Rev. Volodymyr Popyk. Hosted by his wife, Natalia, the Church hall was beautifully decorated in a fall theme, and a plethora of delicious, homemade delicacies including borshch, holubtsi, varenyky, chicken, kovbasa, sausage and peppers, canapes, etc., and with special Ukrainian desserts featuring pampushky, pastries, and other baked goodies. A specially Ukrainian decorated sheet cake with embroidered designs and red poppies served as Rev. Popyk's birthday cake for all to share. Besides the parishioners and other guests coming together to celebrate with Father Popyk, also participating were his mother and mother-in-law, and son, Marion.
Speaking on behalf of the entire congregation, spokesperson Gerry Tchir congratulated Rev. Popyk on his birthday, and recent arrival to the Saint Stephen parish. Gerry thanked Mrs. Natalya Popyk for the elaborate and abundant birthday reception, and then asked the congregation to stand and sing Happy Birthday and Mnohaya Lita to Rev. Popyk. It was a wonderful and cheerful parish event enjoyed by all.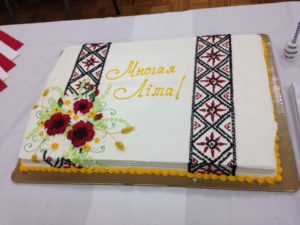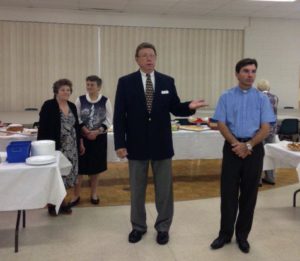 Fall cleanup of grounds
On October 8. 2016, a dedicated and enthusiastic group of  male and female members of the Saint Stephen parish contributed their time and labor to perform landscaping, pruning, and clean-up efforts on the spacious Saint Stephen Church and Community Center grounds area.  Led by Father Volodymyr Popyk, this group worked to restore the landscaped beauty and organized appearance of the entire parish property. Not only did this activity beautify the church property, but it also socially bonded the participating workers. They took pride in their work and it was appreciated by the pastor and all parishioners!
Installation of New Altar Rosary Society Officers

On October 2, 2016, Reverend Volodymyr Popyk, our Pastor led the large church congregation in a prayer-filled service, and performed the Holy Rosary Society Induction ceremony following the 10:30 AM Ukrainian liturgy.  The new slate of elected officers included Maria Onyszkewycz, President, Dorothy Rygiel, Treasurer, and Olga Tchir, Secretary.  Mrs. Lesia Obaranec was inducted into the Altar Rosary Society at this celebration. The Rosary Society Pledge was recited in English and Ukrainian. The Rosarians lead the church congregation in the recitation of the rosary every Sunday before the 10:30 Liturgy. Everyone was invited to a celebration coffee hour in the church hall. Father Popyk also extended a warm farewell to Rosarian and very active parishioner, Jessie Kaciuba. He thanked her for all her hard work and wished her well on her out of state relocation . "Mnohaya Lita" was sung by all!
Please see photos in the "Photos" page.